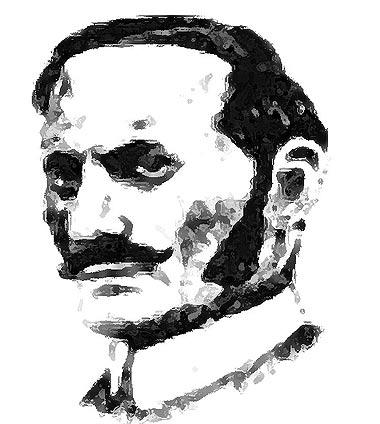 A British author and amateur sleuth says he has unmasked Jack the Ripper, the pseudonymous serial killer who allegedly murdered at least five prostitutes in London in the 1880s.  
He terrorized London during the 1880s, and was one of the most notorious serial murderers of all time.  He has supposedly finally been "unmasked," thanks to DNA evidence.
At least, that's according to a new book entitled Naming Jack the Ripper, which claims to have definitive evidence that Jack the Ripper was a Polish émigré named Aaron Kosminski.
Kosminski was a hairdresser who had already been a suspect in the murders.
Russell Edwards, who wrote the book, says he solved the mystery with a crucial piece of  evidence he bought at auction a few years ago: a blood-stained shawl said to have come from the murder scene of Jack the Ripper's fourth victim, Catherine Eddowes.  Eddowes was said to be a prostitute whose maimed body was found in the early hours of Sept. 30, 1888.
The shawl had reportedly been boxed, but never washed. 
After purchasing the shawl, Edwards enlisted the help of forensics expert Dr. Jari Louhelainen, a senior lecturer in molecular biology at Liverpool John Moores University. It was found that the shawl had both blood and semen on it.  Louhelainen analyzed the shawl.
The blood sample that Louhelainen analyzed was eventually matched with the DNA of one of Eddowes' direct descendants, Edwards says, while the semen sample was matched to the DNA of a descendent of Aaron Kosminski's.