Presidential candidate Marco Rubio vowed recently to "isolate Russia diplomatically" and impose a series of new sanctions on Moscow if he is elected President of the United States.
The Florida senator has taken a harsh stance against Russia while campaigning. Rubio used a national security forum in an Iowa to detail what foreign policy toward Russia would look like if he were elected President.  The Iowa caucuses are one of the first votes in the Republican primary elections.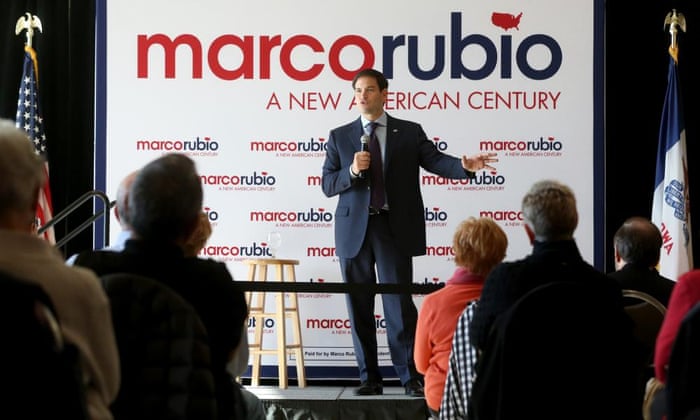 The senator said he would propose new sanctions on Russian officials and entities, including visa bans and asset freezes against senior leadership. He also pledged to work with US allies in Europe to exclude Russia from SWIFT, the international banking system that allows for the exchange of money across countries.
The Republican contender's speech was made against the backdrop of Russian airstrikes against opponents of Bashar al-Assad's regime, including the Islamic State as well as "moderate" Muslims.
Rubio even said, "We are barreling toward a second cold war," and called Putin's airstrikes in Syria a "power play."
Rubio made similar statements in last month's Republican presidential debate, in which his performance was praised and prompted a boost for his campaign. The senator also refered to Putin as a "gangster" at that time – a characterization he repeats often in media appearances and while campaigning in early voting states.
Rubio's criticisms even garnered attention from Putin on CBS television's 60 Minutes program last week.  When asked about Rubio's description of him, Putin responded: "How can I be a gangster if I worked for the KGB? Come on. That does not correspond to reality."
Rubio openly mocked Putin's comments in several campaign stops this week, saying "Well, Mr. Putin, I rest my case."
http://www.theguardian.com/us-news/2015/oct/03/vladimir-putin-is-a-gangster-and-thug-says-us-presidential-candidate-marco-rubio
http://finance.yahoo.com/news/marco-rubio-putin-gangster-thug-140305967.html