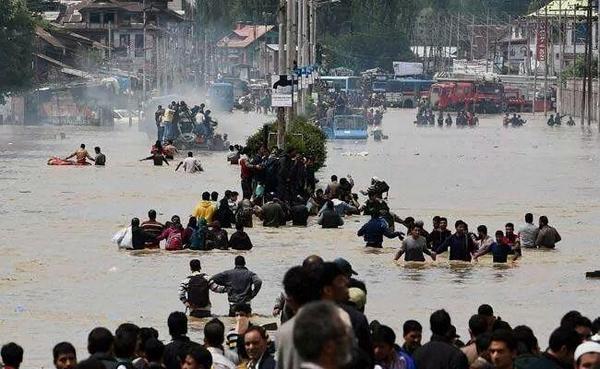 In Indian-administered Kashmir, heavy monsoon rains led to surging floodwaters and the deaths of at least 175 people. Across the disputed border in Pakistani-administered Kashmir, the floods have claimed more than 60 lives, in addition to 131 in Punjab province.  It is the mountainous region's worst flooding in six decades, submerging hundreds of villages and prompting a crisis that has led to a brief co-operation between India and Pakistan. 
Both countries' armies have rushed to rescue those stranded. Although rain slowed down over the weekend, thousands of people remain trapped in their homes, and there was initial anger at the lack of warning and government preparedness for the floods, which have become an annual phenomenon.
In the Kashmir Valley, people have been stranded in homes, hospitals, hotels and houseboats, at schools and on highways, many going for days without food.  
Kashmir is an area divided between India and Pakistan and claimed by both. They have fought three wars, two of them over control of Kashmir, since winning independence from Britain in 1947.  Kashmir has an agrarian economy and there are three main religions in the area: Islam, Hinduism, and Buddhism.  Islam claims the most people.    
In recent history, there was an Islamist-led insurgency that broke out in 1989. India gave the army additional authority to end the insurgency under the controversial Armed Forces Special Powers Act (AFSPA). The AFSPA still remains in force in Indian-administered Jammu and Kashmir.
India has been accused of using chemical weapons in the Kashmir area.  In June 1999, military sources within Pakistan alleged that India had launched shells containing chemical weapons at a Pakistani army position on the Line of Control between the two countries.  India has denied the claims.  
In the summer of 2010, pro-Pakistan and pro-independence public protests erupted, and clashes with Indian security forces left more than 100 people dead.
Historically, Kashmir became known worldwide when Cashmere wool was exported to other regions and nations.
The Prime Minister of India, Narendra Modi flew to Kashmir on Sunday and promised about $200 million in relief efforts and compensation for the flood victims.
Behind the current floods is the larger reality of climate change, according to Indian environmentalist Sunita Narain.
Both India and Pakistan are struggling with inadequate infrastructure to deal with such natural disasters.  That has been compounded by a monsoon that each year grows more unpredictable and delivers more and more rain.  "This makes for a double whammy," said Narain.
Apparently, the American "left" are not the only ones who believe in climate change.