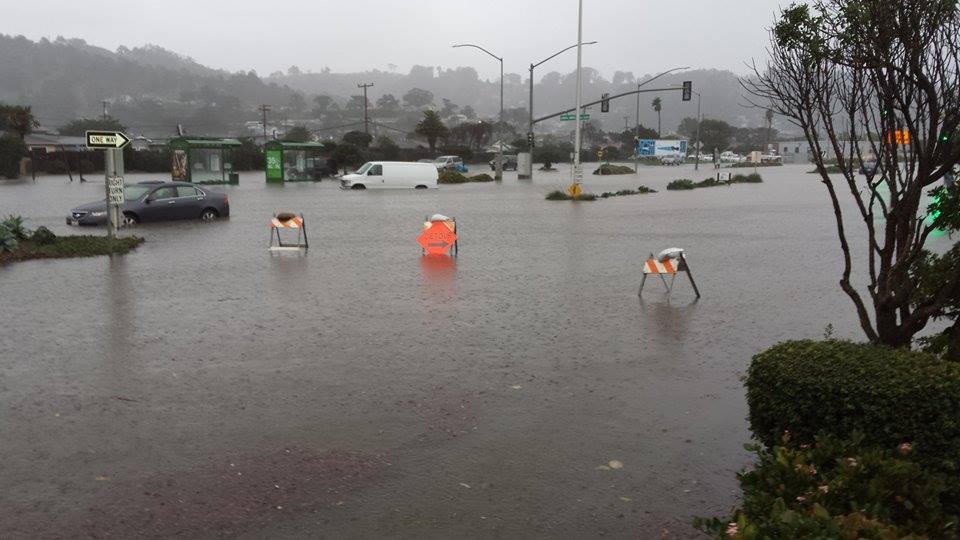 A ferocious storm system pounded a huge swath of the West Coast with heavy rain, hurricane-force winds and power outages Thursday, causing at least two deaths.
In some parts of northern California, the storm produced hurricane-force winds of 78 mph and one gust of 147 mph in the Sierra.
The storm is one of the strongest to hit the West Coast in years.
Authorities in Southern Oregon say high winds toppled a tree atop a 40-year-old homeless man sleeping in a tent along the Pacific Coast Trail.
The Jackson County sheriff's office said the man, Phillip Crosby, complained of difficulty breathing and died shortly afterward.
A teen died of storm-related injuries Thursday evening in the Portland, Ore. area after a very large tree fell onto a vehicle, apparently causing the woman who was in the car with him to swerve into another tree.
The teenage boy was pronounced dead at the scene. The woman was was seriously injured and taken to a nearby hospital.
San Francisco's Cable Cars Halted
Power in San Francisco's Financial District, in the heart of the city, went out shortly after 7 a.m. PT, forcing the evacuation of thousands of workers from skyscrapers over several blocks. The iconic Bank of America was darkened.
Municipal buses were abandoned on city streets because they had no power.
Traffic was gridlocked on Highway 280, the stretch of road that connects San Francisco to San Jose.
Every 15 minutes or so a National Weather Service interrupted radio reports to warn residents not to drive through flooded areas.
In San Francisco, electricity was knocked out from the Marina to the financial district and beyond. The power outages stretched over thousands of square miles, from near the Oregon border to Big Sur on California's Central Coast.
San Francisco's cable car system was shut down before the storm hit because of concern over the effectiveness of brakes on the aging cars in wet conditions.